Martin Energy Group has 131,000 combined square footage with their headquarters in Tipton, MO and Ephrata, PA that houses design, manufacturing, and service operations.  Outside of this, the company has multiple service hubs located around the country. We can accommodate any service issue, including entire engine overhauls.  We also have $3 million plus stock of parts to support our service technicians and allow for emergency repairs. Additionally, unlike many other CHP companies, our facility contains test cells where we performance test all manufactured systems to ensure minimal installation issues and commissioning times.
Maintenance is an absolutely critical component of a CHP system. Without quality aftercare programs in place, system uptime will drop and savings will not be generated. With our extensive market experience, dedicated manufacturing and service facility, extensive stock of parts, highly skilled technicians, and state of the art remote monitoring systems, Martin Energy Group has been able to achieve industry leading uptimes across our fleet, and we have the ability to contractually guarantee performance levels.
Martin Energy Group service technicians have state of the art training and are fully equipped with a service van, service stock, mobile communications, and a personal computer in order to ensure effective monitoring of the units and to enable quick dispatch to CHP sites. Additionally, because our service technicians also manufacture our CHP systems, they are familiar with each installed unit on an individual basis. As more than just engine mechanics, our Service Team is staffed by CHP service qualified technicians that are experts in all the components of a CHP system.
Unit Operation & Maintenance Packages
Like any other engine or machine, a Cogeneration system will require regular, periodic maintenance and inspection to ensure continual, optimal performance. Cogeneration units typically require between 6 and 10 services per annum dependent upon operation profile. The service procedure varies throughout the year from replacing and recalibrating components to oil and filter changes. To ensure maximum savings and compliance with regulation, we offer three flexible maintenance packages; each is detailed in Table 2 below with the applicable price at the bottom.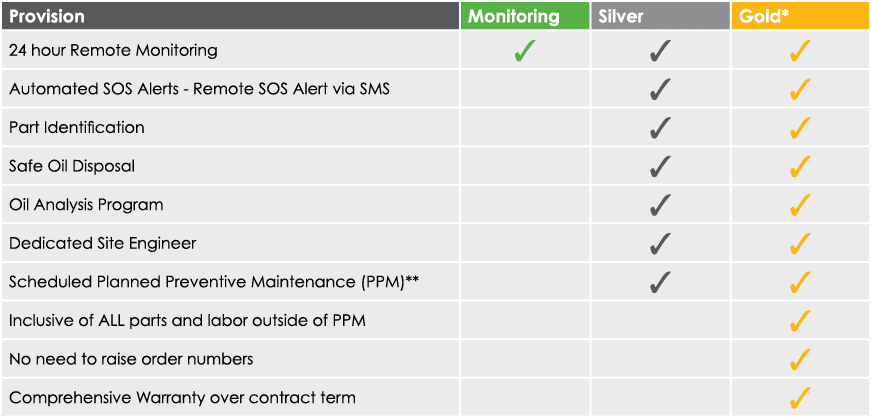 *PPA customers receive the Gold Package as part of the PPA contract agreement
**PPM is inclusive of the following maintenance procedures:
• Engine Overhauls • Valve Setting and Measurement
• Spark plug Inspection and Replacement • Cleaning of Unit Interior and Exterior
• Engine Inspection • Replace Rocker Covers
• Gas tightness testing • Drain and Flush of Water System
• Re-calibrations • Monitoring of System Pressure
• Air / Oil Filter Replacement • Battery Condition Checks
• Ignition Calibration • Lube Oil Replacement
Remote Monitoring
Our US Headquarters continuously remotely monitor all of our US CHP units. When faults are detected, our service department is notified immediately in order to facilitate next working day service. Additionally, this state of the art monitoring system is capable of complete control of the CHP system, allowing for the remote resting of alarms and adjustment of operating parameters if necessary. At a minimum, the units are contacted on a daily basis to retrieve their stored operating data. The data is then collated and used to provide users with periodic reports showing the total number of hours run, percentage availability achieved, and details of any faults that occurred and hours lost.
In the event of an unforeseen breakdown, the on-board computer sends an SOS alert to our US Headquarters, enabling early corrective action to be taken. On receipt of an SOS signal, the remote monitoring system interrogates the unit in order to identify the fault and informs our Service Coordination Team. Quite often the problem is the result of a site-based problem rather than a problem with the unit (e.g. reduced gas pressure, site electrical fault, etc.). In these cases, the problem can be resolved and the unit restarted. If the problem is serious and the unit requires attention, a service technician can be dispatched, armed with detailed prior knowledge of the fault, and hence arrive equipped for the situation. This saves an immeasurable amount of time in diagnosing faults on site and therefore minimizes downtime and maintenance costs.
Download PDF